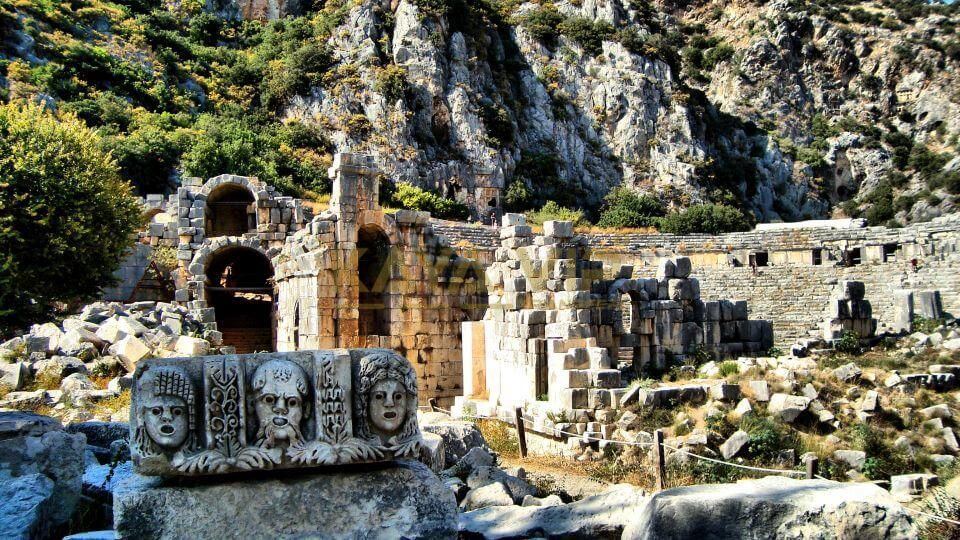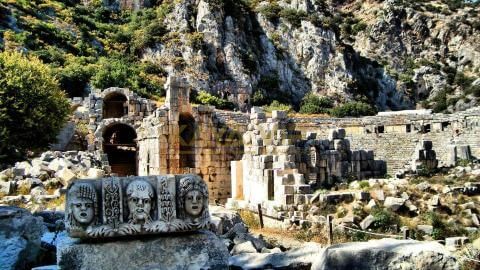 ---
Today, it is possible to reach Simena Castle with its magnificent view on Kekova Island by boat. Although the roads of the castle requiring a museum card may seem challenging, it is also a pleasant way to exit. You can breathe while eating the famous handmade ice cream of the island, and when you reach the castle, you can observe the ancient sarcophagi around. You will see a theater area inside the castle and it is known to be the joy of the palace in the period. The castle, which you can easily reach by Antalya Demre transfer, is 196 km from Antalya city center and 139 km from Fethiye center.
Ancient City of Myra
The city, which hosted dozens of local and foreign guests every year, was the capital of Lycia. Known for the largest theater area that has managed to survive, the city also draws attention with its carved rock tombs. Demre transfer will be with you for this incredible experience, which is 142 km from Antalya city center and can be reached in 145 minutes. Get ready for an adventure-filled trip that you will feel by stepping into the history.
St. Nicholas Church
St. Nicholas was also a saint of the Catholic and Orthodox churches, who played an important role in Nikea's first council in 325 AD. Also known as Santa Claus Nicholas' church is a temple that attracts the attention of tourists with its sarcophagus, which is believed to be the frescoes and graves on the wall. This temple, which you can reach with Antalya airport Demre transfer, attracts not only adults but also children with its statue in the garden. The church, which is 142 km away from Antalya city center, can be reached in 170 minutes.
Andriake Ancient City
The ancient city was a magnificent port city from the Lycian period. Although you will have to assemble the pieces from the ruins, it will be a nice way to understand the grandeur of the period. It is possible to reach the area, which is 145 km away from Antalya city center, in 175 minutes by transfer from Demre Antalya airport. The city has been restored to keep the city alive, and there is a museum and it has been reconstructed with works describing the Lycian period. The cistern, which has survived to this day in this ancient city, will definitely attract your attention.
Taşdibi Beach
Do not go without swimming in this beach, which allows you to enjoy walks with an immaculate clear sea and long beach length. It is so clear that you can see fish and sea horses. It is a beautiful beach that can be preferred for those who do not like the shallow sea. You can enjoy time in this blue that starts as gravel and continues as sand. Taşdibi Beach, which is 143 km away from Antalya city center, can be reached in 140 minutes by Demre Antalya transfer.